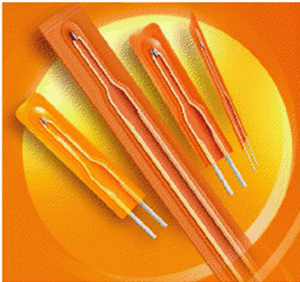 Thermal Component Technologies has released a new Thin Film NTC Thermistor. The Thin Film NTC Thermistor are frequently used for applications where space is a concern and standard design are not thin enough. With a typical thickness of 0.55mm offers the solution engineers have been looking for. They are an ideal choice for precise temperature measurement between flat surfaces where quick time response is critical. The thermistor chip is loaded between 2 conductors then sandwiched with polyimide insulation. This provides excellent moisture resistance, along with flexibility. All the usual benefits of thermistors where sensitivity to temperature change is paramount.
Applications Thin Flim NTC Thermistor
where this type will suit is in the medical industry such as blood bag temperature monitoring for refrigerated storage. Small battery packs will also demand this type where space is particularly limited and quick response is need to prevent heating during charging cycles. Surface temperature of pipes can also be monitored using thin film technology.